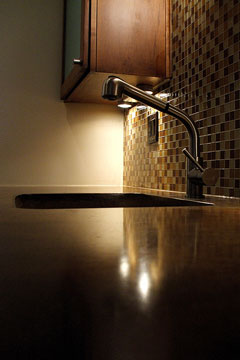 Concrete counter tops are becoming a mainstream choice for architects and kitchen designers. They are a popular and durable alternative to marble and granite. And why not? Concrete is versatile, and counter top surfaces made from this material can work with both modern and traditional styles.

Concrete can take on virtually any shape, and it has a hard, solid presence rather than a plastic look or feel. It can be smoothed, polished, cast, and shaped to approach the appearance of natural stone. Given an edge profile, polished to a lustrous sheen, or finished with a troweled texture, concrete produces a counter that is handcrafted, specifically designed for its location.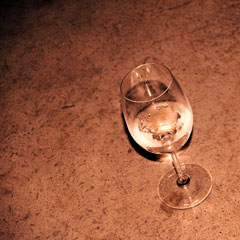 Concrete counter top fabricators can usually provide whatever counter top design, shape, or color that a homeowner desires. No longer do concrete counter tops have to be a cold and industrial gray. The color choices are limitless — white or turquoise for a beach house, green or copper for a bungalow, or perhaps red or even orange for a house with more modern lines. To produce solid-color counter tops, colored pigments are added to the concrete while it is being mixed. To apply surface colors to a concrete surface, an acid stain process is used. Acid-stained counter tops are generally fade-resistant and long-lasting, but their colors are only surface-deep. Concrete counters can be personalized with inlays, and aggregates such as stone or glass can be mixed in for decoration. Molded-in drain boards, built-in-trivets, inset pastry stones, or spaces for wood cutting boards are options. Like granite counter tops, concrete counter tops are heavy. However, standard cabinets should usually be able to handle the weight of a standard-thickness concrete top.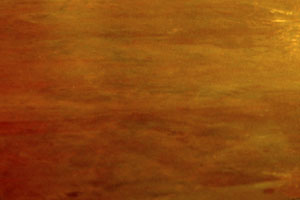 Concrete counter tops are created from a concrete mixture, either poured in place or cast in a fabricator's shop. Steel bars, mesh, or other reinforcing material are often embedded into the mixture, for strength, when the concrete is put into the mold. Some fabricators will vibrate the concrete to eliminate small air bubbles, thus producing a more crack-resistant counter top. After smoothing the surface, the concrete is allowed to cure. The counter top surface may then be ground and polished before a sealer is applied. These sealers help the concrete to resist stains and water. A water-based wax may also be applied. While concrete counter tops are strong and durable, they can develop hairline cracks. Natural shrinkage can cause these imperfections, which generally do not affect the structure of the counter top. Such irregularities may add to the allure of a concrete surface.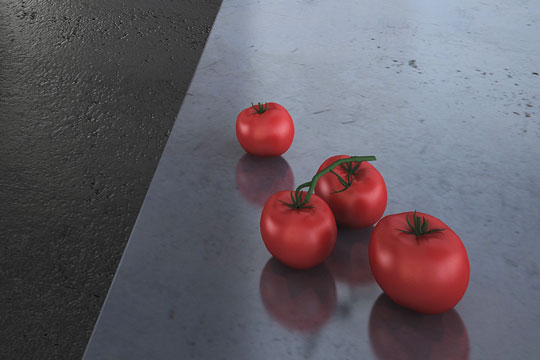 Four Red Tomatoes on a Concrete Counter Top
Cleaning a concrete counter top is similar to cleaning other types of counter tops. Use nonabrasive cleaners. Mild soap works well for daily cleaning. Avoid setting hot pans on the counter top, and use cutting boards to protect the sealed finish of the concrete.
Because they are handcrafted, custom products, concrete counter tops are generally expensive. While concrete itself does not cost much, the special designs, colors, surface finishing, and installation all require the artisan's attention. While do-it-yourselfers can pour and shape concrete, it is usually best to have a professional concrete counter top fabricator construct and install these types of counter tops. A professional contractor should know from experience how to mix and finish the concrete for the best results.
Concrete Counter Top Resources
The Concrete Countertop Institute is a source for teaching contractors how to build high-quality, high-performance concrete countertops.
Crafting Concrete Countertops, an article from the May 21, 2003 edition of Architecture Week, is excerpted from Concrete Countertops: Design, Form, and Finishes for the New Kitchen and Bath by Fu-Tung Cheng.
The Concrete Network is an online service where visitors can find concrete countertop contractors as well as consumer information about concrete counter tops.
Representative Concrete Counter Top Fabricator
Riverbed Concrete provides custom concrete services in the south Texas region. Their products include precast countertops for kitchens, bathrooms, and outdoor locations.
---
Copyright © 2009-2023 Concrete-Counter-Tops.org.
All rights reserved.
About Us
.
Concrete Counter Tops - Concrete Countertops